abcd

Ziendan.net


Hồsơ
Gianhập:
Nov.4.2002
Nơicưtrú:
Global Village
Trìnhtrạng:
[hiệntại không cómặt trên diễnđàn]
IP:
IP ghinhập
Cao Lau, One Of Vietnam's Greatest Culinary Treasures
---
Alison Spiegel
Associate Editor, HuffPost Taste

Chewy noodles, smoky pork, crisp greens, crunchy croutons and refreshing bean sprouts: it may sound like an odd medley, but together these ingredients compose one of Vietnam's most iconic dishes, also its most mysterious. The dish is called cao lau, and it hails from Hoi An, a town in central Vietnam.

Hoi An is a special place for many reasons. An important port from the 15th to the 19th century, Hoi An was a critical center of trade for Vietnam and became home, temporary or permanent, to foreigners from all over, most importantly the Chinese and Japanese. From Chinese temples and pagodas, to the iconic Japanese covered bridge, influences from Hoi An's trading days are still visible everywhere in town, and the French colonial architecture added to the mix makes Hoi An effortlessly charming. The town retained much of its old-world character by a turn of bad luck when the Thu Bon river silted up, preventing ships from docking there and essentially halting all commerce and development, and then a turn of good luck when the tourism industry revived the town in the early 1990s. Hoi An was declared a UNESCO world heritage site in 1999, and today it is a flourishing tourist center. Mustard yellow colonial buildings with vine covered terraces line dusty streets, and lanterns light up the old city at night. The delightful atmosphere alone makes Hoi An worth the visit, but perhaps the best reason to visit Hoi An is the food.

Because of all the international influences, Hoi An is something of a melting pot when it comes to cuisine. All of Vietnam can make the same claim, but Hoi An, a small city of only 120,000 people, is a concentrated mecca of international and homegrown flavors. From the lively street food scene to the renowned restaurants, there is no shortage of places and ways to eat in Hoi An -- at all hours of the day. The central market is at its busiest before 7 a.m., when locals can be found slurping noodle soups and doing their daily food shopping. And the city comes alive at night when the temperature cools and the night market wakes up. Hoi An is also home to a few specialty dishes that are unique to the city. There's com ga: a chicken and rice dish in which the rice is cooked in chicken broth and topped with shredded chicken, coriander and onions. There's white rose dumplings: shrimp and pork dumplings topped with crispy garlic. And then there's cao lau -- Hoi An's signature noodle dish.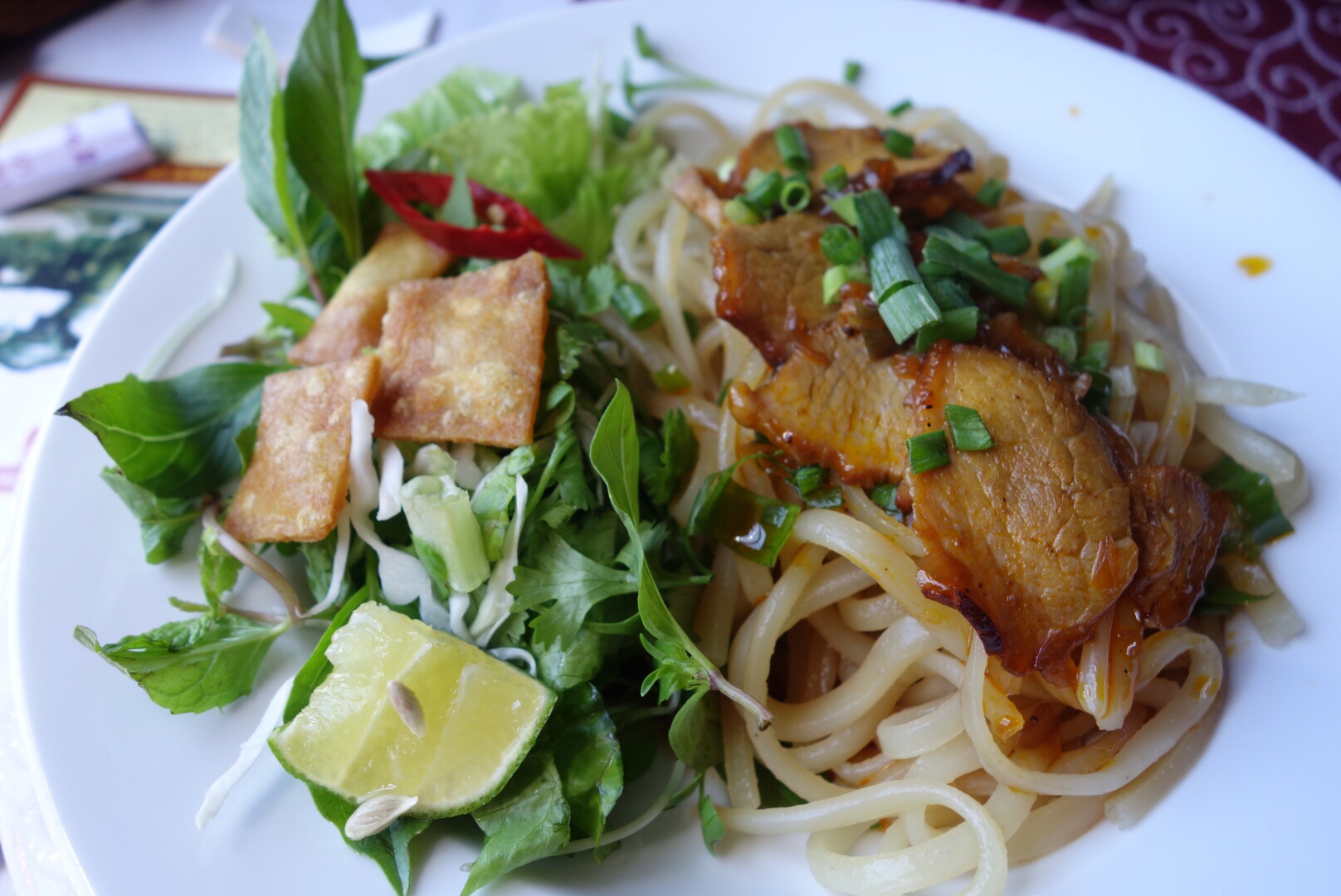 Cao lau consists of thick rice noodles, pieces of barbecued pork, greens and crunchy croutons. The pork is sliced thin and cooked in the traditional Chinese method known as char siu. In addition to adding greens on top of the dish, it's also common to add bean sprouts, which together with the greens adds a burst of freshness and crisp texture to the chewy noodles and meaty pork.The final touch is the crunch of the croutons, which are made from dried cao lau noodles.

The cao lau noodles are the star of the show and the ingredient that makes this dish unique to Hoi An. While the exact recipe is known only to a few people, the tale behind the noodles is legendary. First, cao lau noodles are said to be made using only water from one ancient well in Hoi An called Ba Le well. The well is surprisingly unmarked in a town that depends on tourism and would undoubtedly profit on making it a better-known stop on the tourist circuit. Tucked inconspicuously in an alley, however, wedged right up against a house, the well looks like nothing special and could be easily missed if you're not looking for it. This obscurity makes the well all the more mystical, adding to the esoteric quality of the noodles made with its water.

In addition to the water for cao lau noodles supposedly coming from this one, special well, the water is also supposed to be mixed with a specific type of ash to create a lye solution. The ash is said to come from a type of tree found on the Cham islands, which are off the coast of Hoi An.

The precise process of making cao lau noodles also sets them apart. The recipe is a secret, known only to a few families in Hoi An. More and more people are trying to get their hands on the recipe, of course, and in 2012 writer David Farley for AFAR magazine ventured to Hoi An to get to the bottom of it. While he was allowed to watch the noodle-making process by one family, he didn't walk away with the recipe, which is still largely protected -- at least enough to keep the noodles a unique specialty that you can't easily find outside of Hoi An.

What Farley did find out is that the noodles are steamed, not boiled, like most noodles. And while the family that Farley visited used to make the noodles with water exclusively from the Ba Le well, they now use water from a well they dug themselves next to their house. A family member also told Farley that for the lye solution, they use ash from local wood, not wood from the Cham islands. Whether or not cao lau is made with water from the Ba La well and ash from the Cham islands these days is besides the point, however. The dish is still a local a speciality made using local ingredients, and it's absolutely worth traveling for. The combination of textures, like the legends behind each ingredient, come together to create a beguiling whole.

On top of it all, cao lau's origin is still unknown. Some speculate that the noodles, because of their heft and thickness, were inspired by Japanese soba noodles, while the char siu pork, on the other hand, indicates the dish might have Chinese origins. With its murky, mixed roots, legendary ingredients and guarded family recipe, cao lau is truly one-of-a-kind, just like its home town.

Source: www.huffingtonpost.com/alison-spiegel/cao-lau-one-vietnams-grea_b_5853172.html?ncid=txtlnkusaolp00000592


-----------------------------
BETA TESTER